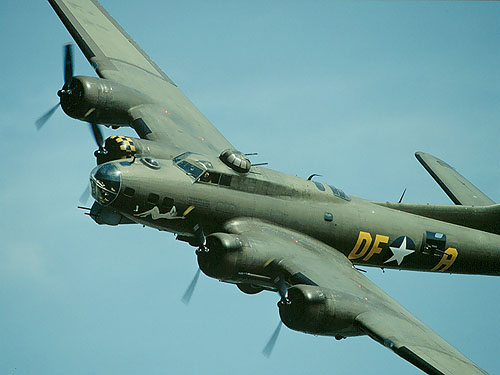 My father Clif Hullinger had some B-17 Experiences. He flew home after finishing the War in North Africa and Italy. His story below:
We were given a choice of going home by ship or plane. I chose a plane but should have been warned since the Air Corp men were choosing ships. They left shortly but we waited weeks for planes. Finally they loaded us onto a B-17 that had been stripped of bomb racks, turrets, and had benches along the side. As the only officer, I was asked to ride in the jump seat behind the pilot. They had replaced the top turret with a flat piece of plexiglass which blew out when we got going and shards flew all around but didn't seem to hurt anything. The bomber pilots were very unhappy since hauling people was way beneath their dignity. The co-pilot changed seats with me so he could sleep and the pilot put the plane on automatic and dozed off too.

I was enjoying myself until I saw another B-17 converging from the right. I eyeballed it and estimated that we would probably miss by at least 200 yards so wasn't too concerned. But after years of traveling at a maximum of 30MPH, I had no concept of closing speeds at 350MPH. When he crossed in front of us at about 400 yards, the pilot woke up very quickly and stayed awake all the way to Casablanca.

No one had bothered to tell Casablanca that we were coming and that they were going to get 10 plane loads a day at this transition point to the Zone of Interior. So it took a week to find another plane, a regular transport C-54 with plush seats and the works. We flew south over the Sahara to Dakar, refueled at night, and were in Natal, Brazil by morning. While refueling, a baggage truck backed into the plane and we waited 3 days for a bucket seat C-54. We took off and were over the Amazon estuary when an engine gave out. We still had 3 but turned back and landed at Belem, Brazil and waited four days for another engine. Finally got to Miami, took a train to Minneapolis and Vivian, SD in June, 1945.
The rest of his story with videos at: